Planning the Perfect Valentine's Spa Day
Date:
Saturday, February 10, 2018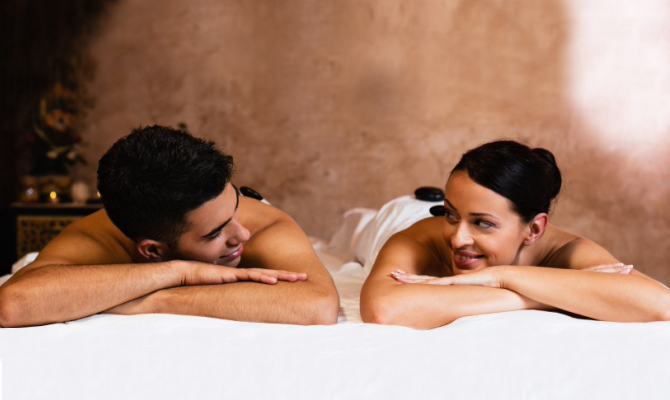 Valentine's Day falls in a stressful part of the year. We've just come out of the pressure of the holidays, winter is still in full effect, and that New Year, New You diet is starting to take its toll.
With everything going on in February, it's the perfect time to show your stressed-out loved one how special they are. A valentine's spa day is a great way to take care of a few problems at once. It's a great stress reliever, it's a loving gesture, and it's a magnificent way to care for the damage to our skin that winter can bring.
Try these easy ideas to make a memorable and restorative valentine's spa day for the one you love.
The Relaxing Face Mask
Not only is a face mask great for deep cleansing and unclogging pores, but a mask infused with essential oils like mint or rosemary can uplift the senses and enhance the relaxation.
Be sure to use a surface cleanser before applying the mask to remove dirt, oils, or leftover makeup. With damp hands, apply the mask over the entire face, and wait for the appropriate time for the mask you're using. Some masks instruct you to leave it on for 10 minutes, some say 15 or even 30 minutes – so be sure to read the instructions.
Love the Hands that Hold You
Taking care of the hands is one of the most important parts of a spa day. These are the hands you hold from now until forever, so they deserve to be pampered.
A good moisturizer is essential to proper hand care. Applying moisturizer with aloe vera, shea butter or olive oil can help keep their hands hydrated and smooth. Be sure the hands are washed well, removing excess dirt and oils, and begin slowly applying moisturizing cream over the entirety of each individual hand. Massage the hand as you go and be sure to apply to the nails and cuticles.
Be sure to select a cream as opposed to a lotion, as they tend to be thicker, richer, and more hydrating.
Give Him a Shave
A proper barber-style shave is one of the best ways to pamper the man in your life. He'll feel better, look better, be more confident, and have one healthy-looking face.
Whether using a safety razor or a straight razor, it's important for a man to shower either right before or during a shave. The hot water softens the skin, preparing it for a closer shave. After you've applied lather, shave in the direction of the hair growth, rinsing the blade after every stroke.
Most aftershaves contain alcohol, which can irritate and dry out the skin. Opt for moisturizing gel or lotion to restore, smooth, and hydrate the skin.
Hydrate on the Inside
With all that loving relaxation going on, it's important to remember to hydrate the most important thing of all. Yourselves!
A cool, refreshing spa water is the perfect finishing touch to your day of restoration. Try infusing your water with a slice of fresh lemon or lime, berries, ginger, mint, or cucumber. Just a hint of flavor in your water is the perfect way to top off what is sure to be a memorable and relaxing spa day with the one you love.