How to Prepare a Party Emergency Beauty Kit
Date:
Tuesday, December 27, 2016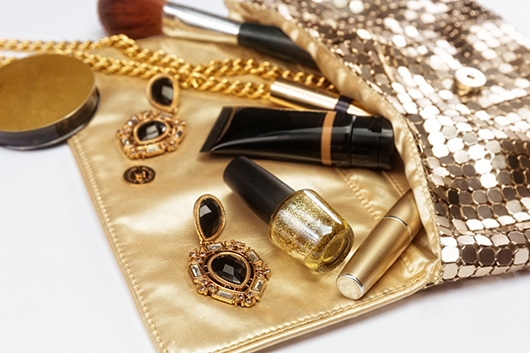 It's party season! This party survival guide will help you stay beautiful and confident no matter what life throws at you.

'Tis the season to get glammed up and visit friends and loved ones. But all that rushing around can sometimes result in beauty disasters––from lipstick on the teeth to frizzy party hair and more. Luckily, a little bit of preparation can go a long way towards preventing beauty mishaps! Try these beauty tips before and during your party to look your best all night long.

Before the party: Pack your beauty bag
This season, try preparing a mini "party emergency kit" that you can stash in your car, or tuck it into your handbag in case you need it. By preparing a kit ahead of time, you can be confident that you'll be able to face any potential beauty disasters head-on. My personal party emergency kit contains:

• Mini deodorant – We've all forgotten deodorant at one point or another. It's not an experience I like repeating, so I keep this with me in my party kit!
• Travel toothbrush and toothpaste – For when gum or mints just won't do. (Garlicky bruschetta, anyone?)
• Pain reliever – You can't dance the night away if you're only thinking about that headache. Pain reliever lets you focus on the fun at hand!
• Hand cream – Most of us hug and shake hands at parties, so that means we wash our hands more than usual. I keep my hands soft by keeping hand cream within reach.
• Travel perfume – I save all the little samples of perfume I get, so I'm always prepared in case I forget before I leave the house.
• Detergent pen – Never worry about random party snack stains again.
• Dryer sheets – I run these (gently!) over my hair to tame flyaways. The added bonus is that they make your handbag smell heavenly!

Before the party: Streamline for success
When you're trying to rush out the door to get to a party, the last thing you want to do is add unnecessary steps to your beauty routine. Here are three easy tips that will make you party-ready without adding too much additional work for you:

Face: Prevent lipstick on the teeth by applying extra lip balm to the center of your lips (towards the inside). This will add just enough slipperiness that lipstick won't be able to adhere to the surface of teeth.

Body: Add a little oil to your moisturizer for smooth, radiant legs. Adding just a little drop of olive oil to your normal lotion will help add a subtle sheen to legs, reflecting light and distracting from any potential blemishes, stretch marks, or veins.

Hair: Wait until your hair is dry before using product. With the exception of products meant to be used on wet hair, such as leave-in conditioner, most hair products just don't work effectively on damp hair. Wait until your hair is completely dry before styling.

At the party: Get creative
Sometimes beauty emergencies pop up that even your party emergency kit can't handle. Here are a few of my favorite creative tips to solving beauty problems on the fly:

• Cool down pimples with ice. Feel a blemish coming on? Simply take an ice cube from a drink and rub it over the blemish for a few seconds. This will minimize the swelling.
• Calm flyaways with hand lotion. With just a dab of hand lotion, run your hands through your hair. The weight of the lotion will smooth hair, just be sure to not use too much!
• Matte oily skin with a toilet cover. It may sound funny, and this should be a last resort, but that super-thin paper that you find in public restrooms to cover toilet seats actually works wonders as blotting paper. Simply rip off a small piece and rub over your face to absorb excess oil.
• Smooth jagged nails with a matchbox. The striking surface will double as a nail file in a pinch.
• Prevent bad breath with a slice of lemon. If you've been snacking on party food, chances are you might want to freshen up. If you don't have a toothbrush or mints with you, try sucking on a slice of lemon. The citrus aids in saliva production, which will help quell bad breath.

The most important thing is that you feel confident and beautiful out and about. If you follow my beauty emergency tips, I think you'll find that no party snafu is too much for you to handle. You can focus your attention where it belongs––on having a great time!

Written by beauty expert, Jacquie Carter Director, Worldwide Outer Nutrition Education and Training at Herbalife.